Today I updated a SharePoint Server 2010 test virtual machine with service pack 1 (SP1; Foundation and Server) and the August 2011 cumulative updates for SharePoint Foundation and SharePoint Server. I ran the SharePoint configuration wizard after installing all the updates.
When I rebooted the server (suggested when encountering the User Profile sync problem after applying the patches) and tried to open one of the team sites, I received a 503 Service Unavailable error (as shown in the picture below).
Service Unavailable – HTTP Error 503. The service is unavailable.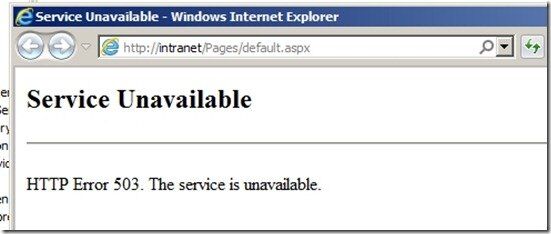 Once I got over the "what did I do??!?" moment, I of course recognized this as an IIS error, not a SharePoint error. I opened the Internet Information Services (IIS) Manager MMC and noticed that none of the SharePoint Application Pools were running. After starting all the needed Application Pools, everything is back to normal.